About Alaska
Quite simply Alaska, America's last true frontier, is as breathtaking as it is immense. The state of Alaska is one-fifth of the landmass of the lower 48 states and over twice as big as the state of Texas. (It would take three Californias or 12 New Yorks to equal it in size).
Alaska is 1400 miles North to South and 2300 miles East to West. To put this in perspective the distance between Bangor Maine and Miami Florida is 1460 miles!
And Alaska is breathtaking with unfettered wilderness teeming with spectacular wildlife, jaw-dropping ice-age glaciers and soaring mountains. As a matter of fact, Alaska has more wilderness than all the other 49 states combined, so a visit to Alaska is a thrilling opportunity to observe Alaska's abundant wildlife in their natural habitats.
Alaska has 24 hours of functional mid-summer daylight, three million lakes, over three thousand rivers, 100 volcanoes and the largest glaciers on earth and is the home of North America's highest mountain… Mt. McKinley at 20,320 ft. Mt McKinley is in Denali National Park which covers over 6 million acres…about the size of the state of Massachusetts.
Nowhere else in the world is it so easy to go from a four-star meal to a patch of woods that sees at most two or three human footprints a year.
Talk with anyone who is an avid traveler and no doubt they will quickly tell you Alaska is one of the highlights of all their travel experiences and a "bucket list" must.
A visit to Alaska is more than a vacation. It may change you forever. The people, the places, the beauty – it's like nothing else on earth. When you visit..Alaska becomes part of you.
Anchorage
Alaska's largest city is set between the towering Chugatch Mountains and Cook Inlet. It blends a cosmopolitan environment in a typically Alaskan setting. Fishing for Salmon in downtown Anchorage at Ship Creek is not uncommon. On a clear day six mountain ranges are visible and Anchorage boasts 183 miles of walking and hiking trails Over 1600 moose live in the Anchorage city limits. The Anchorage Museum and Native Heritage Center are world class cultural enrichment centers.
Barrow and the Arctic
The Inupiat community of Barrow is the northernmost settlement in America and one of the largest Eskimo communities. This far north, the summer sun doesn't set for 82 days shining continually from May 10 – August 2.
Denali National Park
Home of Mt. McKinley, North America's highest peak at 20,360 ft is 6 million acres with one ribbon of a road (mostly unpaved) going 91 miles into the park. The park is vast and wild and unspoiled and boasts the largest continually protected ecosystem in the world. Outposts of civilization are few and far between. Passing through the park's richest wildlife corridor, it is a place where visitors can see large animals at home in the wild: caribou, bear, wolf, dall sheep and moose.
Fairbanks
Billed as the "Golden Heart of Alaska," is Alaska's second largest city and boasts the University of Alaska's renowned Museum of the North and a variety of colorful frontier attractions including gold mining, Pioneer Park and a nostalgic sternwheeler cruise. Fairbanks serves as the regional hub and gateway to Alaska's interior and arctic and one may just as likely see a dog team cross the road or a moose wander through downtown, as be passed by an elegant limousine. Temperatures in the summer can exceed 90 degrees F and it is not uncommon to see -60 degrees F in the winter.
Glacier Bay National Park
Is undoubtedly the top destination for glacier viewing in Alaska. Spread over 3.2 million acres, this treasure trove of scenic coastal islands, narrow fjords, abundant wildlife and fortress-like glaciers offers an inspirational glimpse of what mother nature does best. The park is home to the highest concentration of tidewater glaciers on the planet.
Homer
The lush Kenai Peninsula attracts bird-watchers, anglers, artists and nature lovers. Situated on lovely Kachemac Bay, Homer is considered one of the top spots in Alaska for Halibut fishing. It boasts quaint shops supporting a vibrant arts community.
Hubbard Glacier
Stretches 76 miles to the sea at Yakutat Bay and Disenchantment Bay from its source in the Yukon. It was named in 1890 after Gardiner G. Hubbard (regent of the Smithsonian Institution and first president of the National Geographic Society) and is the longest tidewater glacier in Alaska; with an open calving face over 6 miles wide.
Icy Strait Point
Located along Alaska's Inside Passage, is one of the most scenic and wildlife-rich ports. It is located on waters frequented by whales and dolphins and surrounded by forested shorelines where bears come to forage.
Juneau
Is Alaska's capital and is nestled between towering mountains and the tidewaters of Gastineau Channel. It is the only state capital in the nation not accessible by road. Access is only by plane or boat. It is also the only city to have a glacier in the city limits; the massive Mendenhall Glacier. For nature lovers the whale watching out of Auke Bay is some of the best in the world.
Kenai Peninsula – Seward
The Alaska SeaLife Center showcases a one-of-a-kind combination of public education, animal rehabilitation, conservation, marine research, and knowledge-enriching entertainment. This world-class, 115,000-square-foot facility was built with funds from the 1989 Exxon Valdez Oil Spill and serves to remind visitors-in a highly interactive way-of the importance of understanding and maintaining the integrity of Alaska's marine ecosystem.
Ketchikan
Is often described as the "Alaska's First Town" and is located within the heart of the Tongass National Forest. Founded as an Indian fishing camp It is a mecca for sportfishing and renowned for its ancient and contemporary Native American culture as well as the gateway to visit the glorious Misty Fjords.
Kodiak
Located in Southwest Alaska, is the principal town on Kodiak Island and the home of Alask's largest fishing fleet. The Kodiak National Wildlife Refuge covers two-thirds of Kodiak Island offering protected habitat for world famous Kodiak Brown Bears – the world's largest land carnivore. Males can reach up to 1400 lbs.
Prince William Sound
Encompasses 10,000 square miles of protected waterways, islands, fjords and 10,000 glaciers. College Fjords surrounds you with glaciers on three sides featuring 16 tidewater glaciers with Harvard Glacier standing at the head of the fjord. Whittier is the port of access for some of Prince William Sound's most spectacular sights and access to Whittier is through a 2.5 mile WWII era tunnel that is the longest dual use highway/rail tunnel in North America.
Prudoe Bay
On the shore of the Arctic Ocean, is the location of the North Slope oil fields and the beginning of the massive Trans-Alaskan pipeline. It is the start of the Dalton Highway featured in the popular TV series "Ice Road Truckers".
Skagway
A Klondike Gold Rush National Historic Park, honors a storied past right out of the late 1890's. Born of the Klondike Gold Rush of 1898, Skagway was a riotous boomtown full of saloons, gambling dens and worse with more than 20,000 prospectors on their quest for gold. Those days are recreated in the false fronted buildings of the Klondike Gold Rush National Historic Park. The narrow gauge White Pass and Yukon Route Railway offers a narrative of those days as well as a full pallet of spectacular scenery.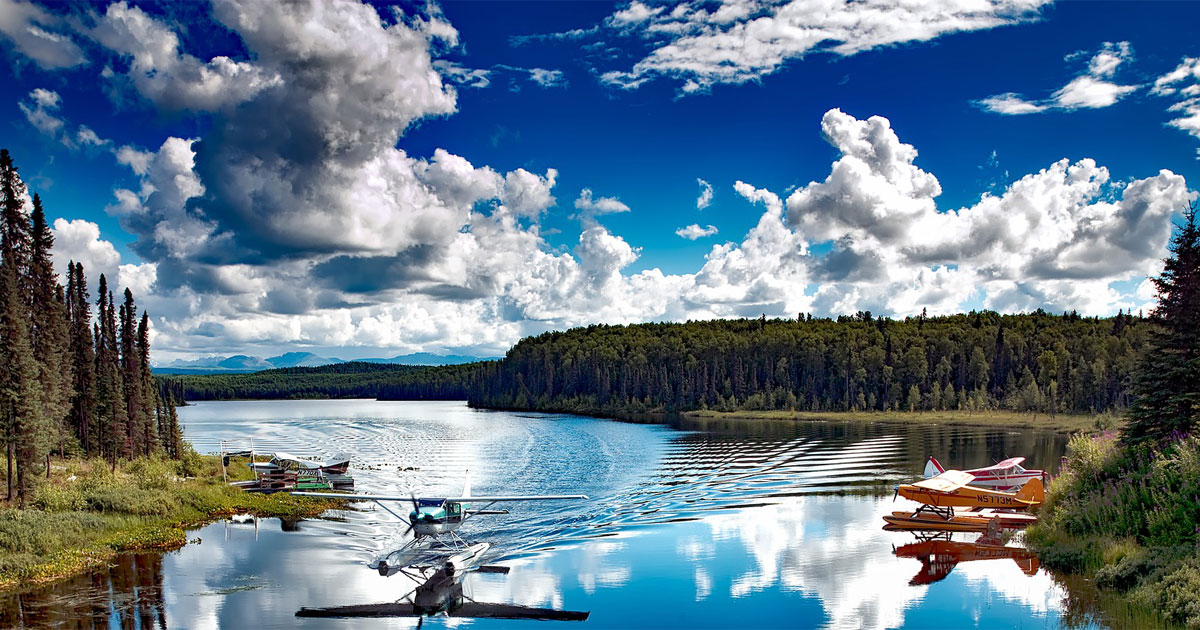 Talkeetna
The historic and quaint village of Talkeetna is nestled at the base of North America's tallest peak, Denali (Mt. McKinley) and boasts outstanding panoramic views of the Alaska Range. It is the staging site for mountaineers as they begin their climb up Mt. McKinley. The name itself, Talkeetna, an Athabascan phrase loosely meaning "where the rivers converge" or "river of plenty," reflects one of the key attractions. At the end of Main Street, three rivers converge — the Susitna, Chulitna and Talkeetna. Visitors can find great salmon fishing here or take a guided jet boat tour, rafting trip or river boat cruise on the 200 miles of breathtaking waters.
Tracy Arm
Where rugged granite cliffs rise straight from the waters edge, twists and winds its way through 26 miles of astounding scenery ending at the twin Sawyer Glaciers. It is located about 45 miles south of Juneau and is named after a Civil War general named Benjamin Franklin Tracy.
Wrangell – St. Elias
Is part of a transborder Canadian/U.S. park system that is a UNESCO World Heritage site. The national park is the largest in the US comprising over 13 million acres.
The heaviest annual snowfall: 975.5 inches (over 81 ft.) at Thompson Pass, near Valdez during the winter of 1952-53
Lowest recorded temperature: -80 degrees f at Prospect Creek Camp, 1971
World's busiest seaplane base: Anchorage's Lake Hood; handles more than 1,000 takeoffs and landings on a peak summer day.
Alaska has more active glaciers and ice fields than the rest of the inhabited world. 5% of Alaska is covered by glaciers
In Alaska it is illegal to wake a sleeping bear for the purpose of taking a photograph.
The Anton Andersen Tunnel, connecting Anchorage to Whittier, constructed in 1943 during WWII, is the longest dual use (rail/highway) tunnel in North America at 2.5 miles and is designed for temperatures of -40 degrees F and 150 mph winds.
Alaska has 17 of the 20 highest mountains in the United States including the highest mountain, Mt. McKinley at 20,360 ft.
Fairbanks Alaska may have the widest temperature range of any major city in North America: summer days can hit 90 + degrees F and winter is no stranger to 60 below.
Over 1000 moose live in the Anchorage city limits.
Alaska accounts for 25% of the oil produced in the United States.
Alaska's coastline is over 33,000 miles.
Most of America's Salmon, crab, halibut, and herring comes from Alaska.
Alaska contains over 100 volcanoes and volcanic fields of which 43 are considered active.
Alaska is home of the second largest earthquake ever recorded (1964 Great Alaska Earthquake, magnitude 9.2) and has had 11% of the worlds recorded earthquakes.
The largest national forest in the United States is the Tongass National Forest stretching more than 500 miles along Southeast Alaska's Inside Passage.
The average bear eats about 2000 berries a day in the summer.
Alaska is the least populous state. There is approx 1 person per square mile in Alaska vs. 80 people per square mile in the rest of the United States.
Alaska has more than 10,000 glaciers of which one is larger than Rhode Island. (The Bering Glacier in Southeast Alaska near St. Elian – Wrangell National Park.)
---
---