Message From Alaska Travel Industry Association
In the immortal words of James Bond, we are shaken, not stirred.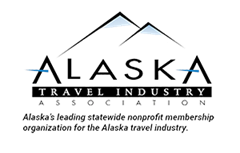 The ATIA team had just reached the office on Friday, November 30th, when the 7.0 magnitude earthquake struck. We, and residents across Southcentral, are so very fortunate that it was only things, not people that sustained damage. After a weekend of tidying up at home, the team is back in the office. Other than a few plants knocked over, pictures on the floor, and books scattered, we are relatively unscathed. Things could have been quite different.
ATIA has long advocated for well-maintained infrastructure. In this, too, Alaska is very fortunate. Our major highways reopened relatively quickly following structural inspections of bridges and abutments – albeit with localized lane restrictions. And, while some roads had major failures, the Department of Transportation and Public Facilities is already tackling the challenges of repairing and replacing damaged infrastructure in tough winter construction conditions. Ted Stevens Anchorage International Airport was up and running five hours after the initial quake after ensuring the control tower and runways were secure. The Egan Center sheltered people who couldn't make it back to their homes. I am encouraged that we, as an industry, were able to meet the needs of our visitors at this time, as well as if something as catastrophic as this earthquake were to occur again.
I find myself most grateful for the resilience, support, and humor of Alaskans during the last few days. Alaskans generally, and our industry specifically, take care of each other in times of need. To those of you in Southcentral, I hope your homes and businesses are back to normal quickly. For our members elsewhere, thank you for your immediate messages of concern and offers for help. In this season of giving thanks, all of us at ATIA are truly grateful.
Sarah Leonard
Alaska Travel Industry Association
President and CEO